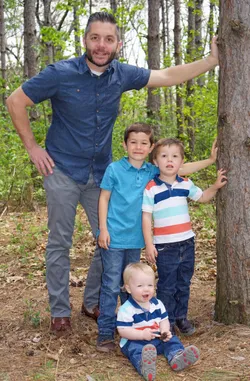 Dr. Jim Chichester was born and raised in the Grand Rapids area and is grateful to be able to live and work in the same community. Dr. Jim graduated from Grandville High School and then attended Grand Valley State University where he received a Bachelor of Science degree in Biomedical Science. Dr. Jim made a decision while attending Grand Valley State University that he wanted to help people restore health naturally, so he would pursue a degree in Chiropractic. He graduated Cum Laude from Palmer College of Chiropractic in Davenport IA, the fountain head of the profession in 2008. Dr. Jim participated in a mission trip in February 2008, along with 25 students and faculty members, to Manaus, Brazil to provide chiropractic care to over 2000 patients in the region in 10 days.
Dr. Jim and his wife Dr. Maria returned to West Michigan following chiropractic college and have settled in Lowell Michigan where they operate Lowell Chiropractic. He adores the city of Lowell and has made a point of becoming very involved in the city he lives and works. He is an active member of the Lowell Rotary, Lowell Area Chamber of Commerce, and serves on the board of Lowell Community Wellness, an organization dedicated to inspiring and educating the Greater Lowell community to attain a healthier lifestyle. In addition, he is a member of the Michigan Association of Chiropractors. Since graduating chiropractic college, Dr. Jim has been busy pursuing a certification in Wellness through the International Chiropractic Association. He truly loves the out doors and during his time off loves most any outdoor activities including; hunting, fishing, mountain biking, camping, and boating.
Dr. Jim encourages new residents, as well as those who have called Lowell home for years, to get acquainted with him and his professional staff. Experience first-hand his knowledge and dedication to chiropractic, his patients and community by making an appointment today for preventative chiropractic care. Should the need ever arise for emergency chiropractic care, you will have a doctor of chiropractic who is familiar with you and who will offer personalized service.